About the project
Project title: Harmonisation of childcare – Harmonisierung bei der Kinderpflege
Call: European Territorial Co-operation Austria - Czech Republic 2007 – 2013
Project ID: M00233

Implementation period: 5 April 2012 – 31 August 2014 An international project where Společně o.p.s. is the leading coordinator aims to help parents in orientation when searching for the optimal form of care for their child, including alternative forms, within the current Czech legislation. Experience of the Austrian partner will help to support the development of different forms of child care and also help in the formulation of proposals for statutory regulation of this area in the Czech Republic.

Project partners:
• Společně o.p.s. , Mendlovo náměstí 1a, 60300 Brno – lead partner
• South Moravian Region, Department of Social Affairs, Section of Family Affairs and the Department of Education, Žerotínovo náměstí 3/5, 60200 Brno
• Highlands Region, Department of Social Affairs, Žižkova 57, 57833 Jihlava
• Verein Family Business, Schulgasse 3, 3100 St. Pölten, ' Österreich

Project output:
1. Website - concentrated offer of childcare services
Website www.spolecnedetem.cz will contain complete information on services in the field of child care. This website will be part of familyinfo.eu just as the Austrian website www.kinderbetreuung.at
2. Conferences and workshops
Meetings will respond to expected legislative changes in this area, particularly to solutions of issues related to the parameters of these facilities and services.
3. International exchange
Exchange of childcare services personnel, including those who plan to enter the field professionally, from the South Moravian Region, Highlands Region and Lower Austria. This cross-border exchange will continue taking place after the conclusion of the project.
4. Proposals for legislative changes
This measure will include processed findings that emerged from the discussions, international exchanges and conferences throughout the project. It will include a summary of the key problems in child care with suggestions for their solution. Possible solutions will be discussed with the Ministry of Labour and Social Affairs within the possibility of legislative proposals.
Our projects
WWW.KINDERBETREUUNG.AT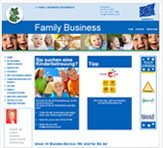 WWWW.SPOLECNEDETEM.CZ