WELCOME
Children are our future!

Their development into happy people must therefore have the highest priority. Reconciling family and career must primarily seek to offer childcare facilities - oriented to the needs of children.

www.familyinfo.eu connects all childcare facilities in Austria and the Czech Republic as a first step towards a Europe-wide network. A complex software enables to search for all child care facilities by postcode or name and type. You can retrieve the data in three languages.

Draft Resolution of the Europaen Parliament on Early Years Learning in the European Union 2010/2159 (INI)) from 17.3. 2011: "Child-centred approach Welcomes the targets set in the Barcelona European Council Conclusions "to provide childcare by 2010 to at least 90% of children between 3 years old and the mandatory school age and at least 33% of children under 3 years of age"; argues, however, that the Council and Commission must revise and update these targets, putting the needs and best interests of the child at the centre of their ECEC policies; "
Our projects
WWW.KINDERBETREUUNG.AT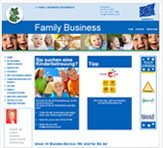 WWWW.SPOLECNEDETEM.CZ